Meadow Brook Club
Jericho, New York
"On behalf of the Board of Stewards and the Greens Committee of Meadow Brook we wanted to thank TDA for a terrific job on the bunkers. The final product is superb and reflective of the calibre of final product that we believe MBH should have."
- Bradford G. Weekes III, President and Thomas H. Lister, Chairman of the Greens Committee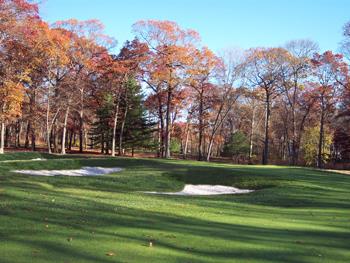 The Story
TDA was commissioned in 2005 by this historical club to restore almost all of the bunkers on the course. Many of the original Dick Wilson designed bunkers had changed through time and we are striving to bring them back to their original design intent, while implementing new modern means for construction.
The Meadow Brook Hunt Club was established on Long Island in New York in 1881 and has been listed as one of the first 100 clubs in the United States. Golf came to the club in 1893, and the first USGA Women's Amateur Championship was held at Meadow Brook in November 1895. Development of the Long Island Expressway forced the club to move to its current location, the former Middleton S. Burrell property in Jericho. Renowned golf architect Dick Wilson designed the new course and used many sand bunkers in his design to accentuate the beauty of the landscape, while also adding to the strategic content of the course. The style of his bunkers included grass faces with a relatively flat bottom of sand.
It was inevitable that the sandy, gravely soils of the site would result in the bunkers being altered through time. TDA was hired to restore these bunkers while also implementing modern construction methods, which will ensure the quality of the sand for a longer period of time.
Gallery